Try It Tuesday: Turtle Caramel Popcorn Recipe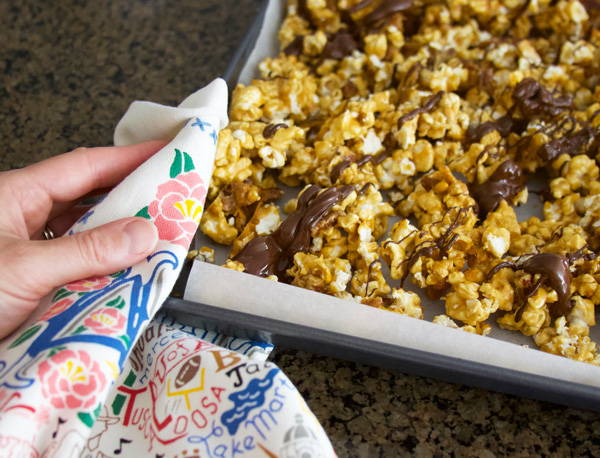 And it just got sweeter! We set out to make a little something special for the dads this Father's Day, but this recipe just may become a new favorite treat for family movie or game nights. It was so hard to resist the urge to eat it all... leaving nothing to give away!
If you love that salty/sweet combo, this recipe hits the nail on the head. We hope you enjoy it as much as we did, and will share this love with your family and friends too.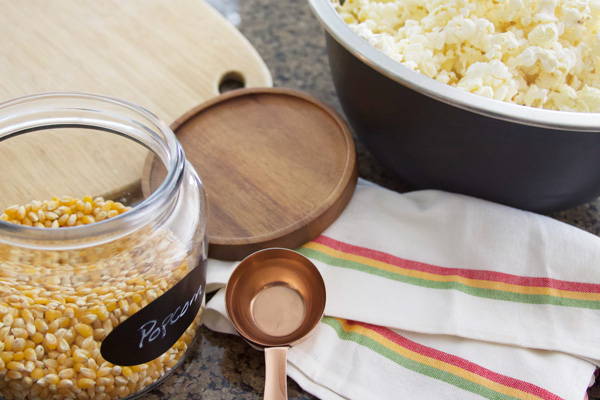 A popcorn air popper is a wonderful gadget to have if you are a popcorn lover. We absolutely love popcorn and eat it often, but we actually don't have an air popper. Let's just call it our minimalist tendencies (thank you, Marie Kondo) - and the fact that we've been happily using the "paper bag" trick for years to make our popcorn.
Here's how you do it. Grab a paper lunch bag, pour in about 1/4 cup of popcorn, fold the top of the bag over a couple times and pop it in the microwave. Now, here's where you do need to know your microwave and pay attention. For us, the sweet spot is about 1 minute and 40 seconds, but yours could be longer or shorter depending on your microwave. To test yours, set the microwave for about 3 minutes and stand by. When you hear about 2 seconds between pops, quickly turn off the microwave and remove the paper bag. Now you can sprinkle some butter, oil, salt, nutritional yeast, or other seasonings directly into the bag, give it a shake, and your snack is ready!
For the purposes of the Turtle Caramel Popcorn recipe, we needed 3/4 cup of uncooked popcorn popped. We made 3 quick batches of our paper bag popcorn (sans toppings), and we were ready to go.
Turtle Caramel Popcorn Recipe
Ingredients:
3/4 cup un-popped popcorn kernels
3 cups pecans
1 cup butter, unsalted
1 1/4 cup brown sugar
3/4 cup Karo syrup (we used light but either will work)
1/2 tsp salt
2 tsp vanilla
1 tsp baking soda
1/2 cup chocolate chips
Directions:
Preheat oven to 224* and line 2 baking sheets with parchment paper
Pop popcorn using air popper or paper bag trick. Try to weed out as many of the old maids as you pour into a large mixing bowl.
Combine popcorn and pecans in large mixing bowl (you may need 2 bowls for this).
In a medium sauce pan, melt butter over medium heat. Add brown sugar, karo syrup, and salt. If you have a candy thermometer, bring caramel to 238*, or else bring to a boil and then reduce to medium-low heat for about 3 minutes. Add vanilla and baking soda and whisk together.
Pour caramel over popcorn and pecans, stir to coat well. Spread evenly over baking sheets and bake for 40 minutes, stirring once at the halfway point of 20 minutes.
Let popcorn cool, and then melt chocolate chips in a glass measuring cup in the microwave or a small saucepan
Drizzle chocolate over popcorn and let cool until hardened. Bonus tip: sprinkle with some coarse sea salt while chocolate is still soft.
Enjoy!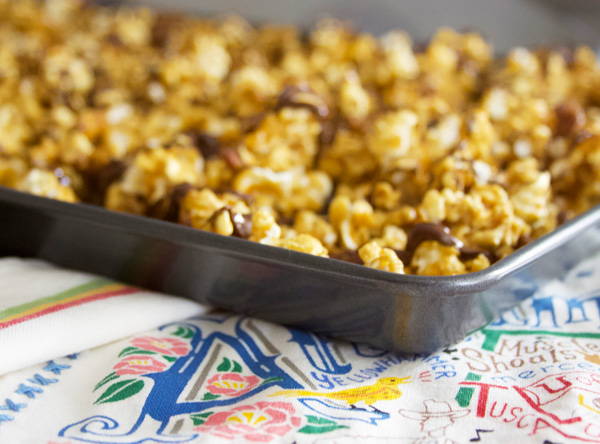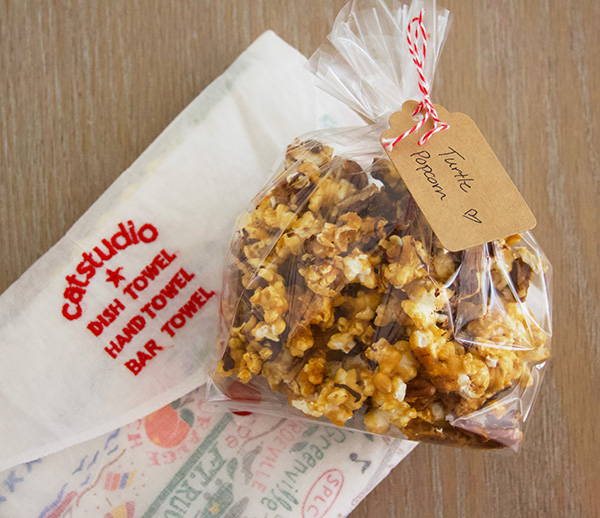 We managed to resist the urge to eat the entire batch in one sitting, and instead are gifting our treat to the dads this Father's Day. A sweet gift for teachers, coworkers, friends, and family around the holidays - or any times. And it would also make a wonderful addition to any gift basket along with some glasses, dish towels, and other snacks. We hope you enjoy!