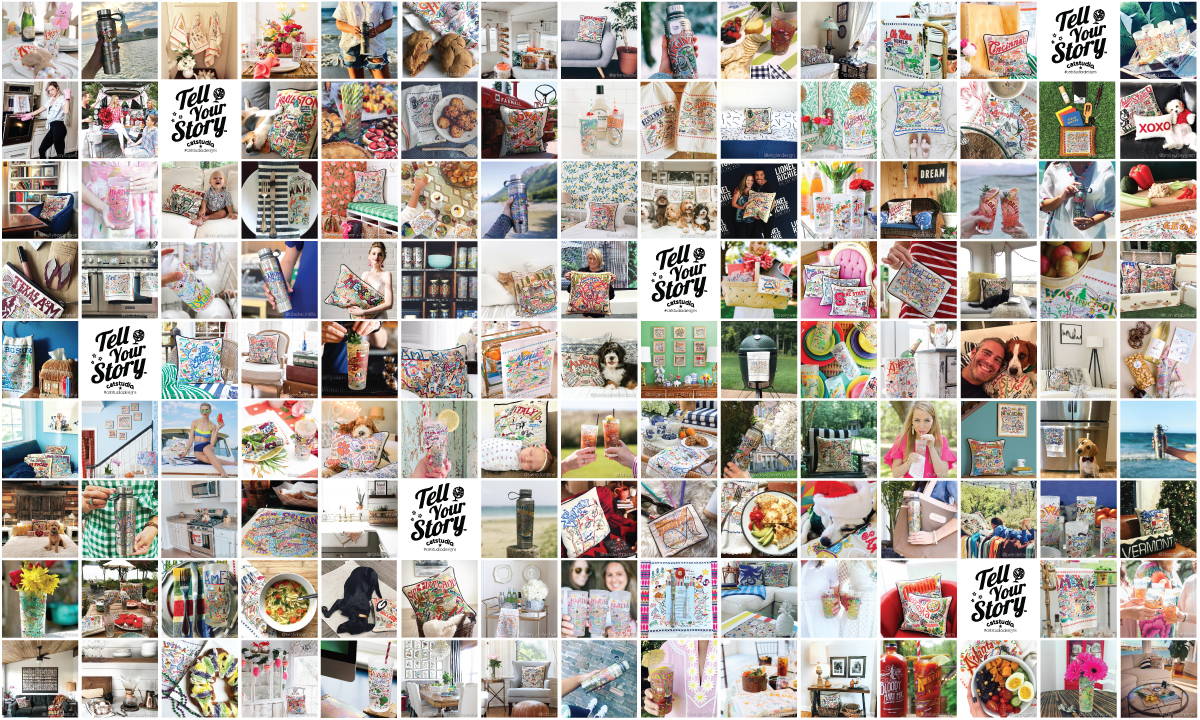 Everyone has a life story to share - a home, a happy place, a state of mind - and we love nothing more than hearing about where our artwork has found a home. From collections of glasses that celebrate the places you've been, to pillows that have been handed down from generation to generation—joyful memories arise from our artwork. That's the heartbeat of catstudio and the reason we keep on doing what we do.
Here's a little inspiration from our team as well as some of the beautiful letters we've received from our customers sharing their stories. Enjoy!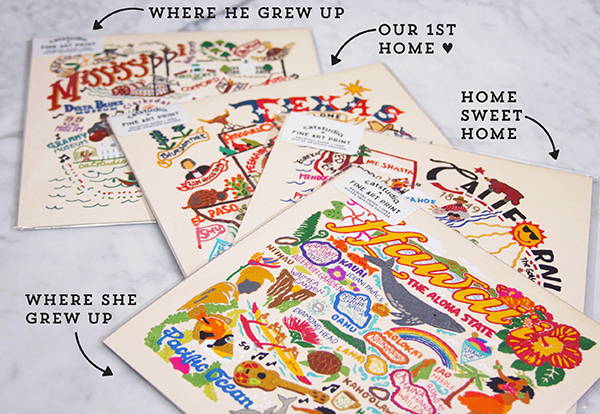 Carmel and Terrell's (the C and T of catstudio) #mycatstudiostory through our fine art prints collection. What a meaningful way to commemorate the special places to you as a couple!
Our Story:
"All our designs are like our children, so it's a bit hard to choose favorites!"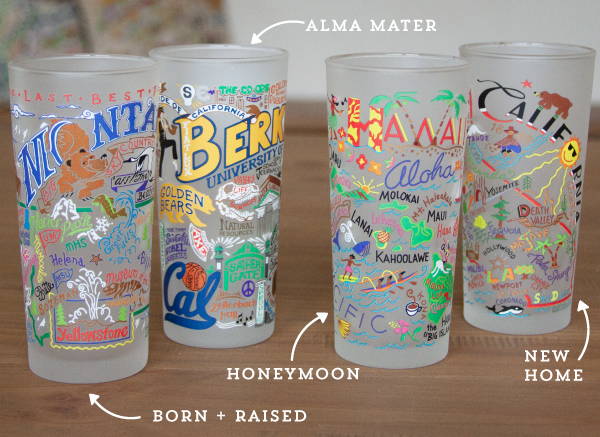 "My collection of glasses brings me and my family joy. We use them everyday (hello, dishwasher!) and it's always fun to reach into the cupboard and feel nostalgic about all the places that are special to my family! We also have several pillows in our home celebrating some of our favorite vacation destinations over the years." - Sierra (catstudio design + marketing team)
My Story:
Montana - Sonoma - Mexico - Maui - Lake Tahoe - Italy - Scotland - England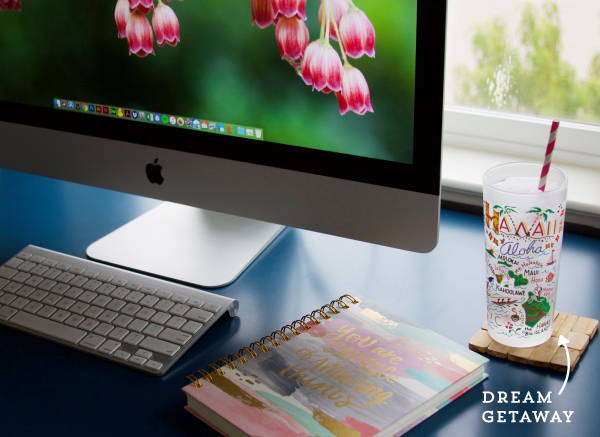 "I have the Maui glass at my desk ....helps me remember to drink water all day and gives me a way to 'escape' from work by daydreaming of beautiful beaches." - Rosie (catstudio accounting team)
My Story:
Sonoma County - Daytona Beach - Lake Tahoe - Maui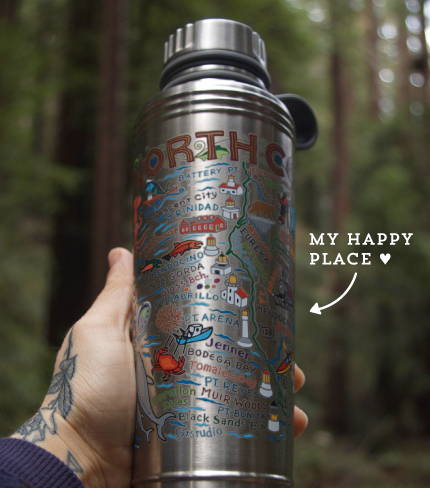 "My North Coast thermal bottle goes with me everywhere! From the mountains to the coast, you can always find this essential in my bag." - Ashley (catstudio customer service team)
My Story:
North Coast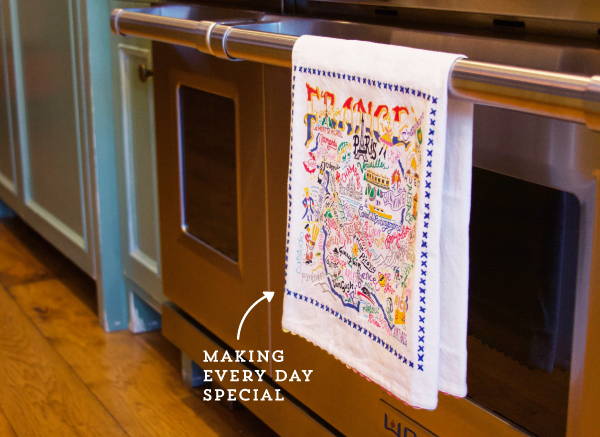 "I LOVE catstudio's designs—they are daily reminders of all the wonderful places that mean so much to my family and they're great conversation starters! I use the dish towels every day. Not only are they beautiful, they are also super high-quality and absorbent. – Arianna (catstudio marketing team)
My Story:
Sonoma County - San Francisco - Petaluma - Alaska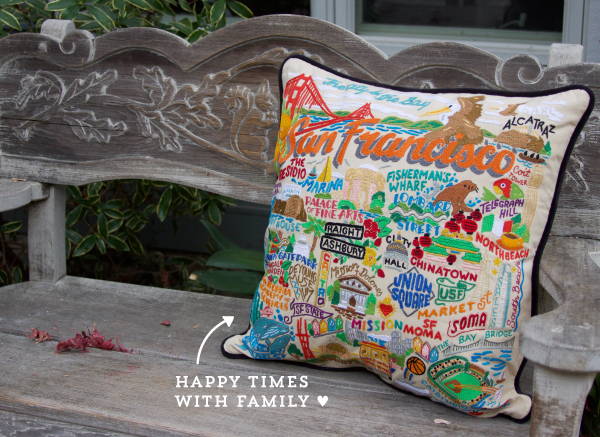 "San Francisco is the city my family revolves around! Most of my family was born there or lives there today, and I've spent so many holidays and day trips in the city. You could say I left my heart there. Petaluma also holds a special place in my heart as it's where my Godmother helped raise me."
- Kailan (catstudio design team)
My Story:
West Coast = Best Coast: Sonoma County - Marin - Golden Gate Park - Seattle
Inspiration from our wonderful customers
"I own 3 catstudio pillows—London, Florida, and Greece. I look at each of them and I see some of the most important and beloved places that I hold near and dear to my heart. Each time I sit on my couch, or flop onto my bed after a long day, I am transported to the comfort of my memories. I see the delicately stitched "Covent Garden" in beautiful emerald green thread in the London pillow, and remember wandering through the streets of one of the most beautiful British neighborhoods, shopping with my mom on a snowy November day. The plum colored thread that says "Sanibel Island" on my Florida pillow brings me right to the beach off of West Gulf Drive, and suddenly I can smell the salty humid air and feel the warmth of the familiar sun kissing my skin in my second home.
My grandfather emigrated to the U.S. from Greece in 1953. I've been to Greece a number of times, and I am never more proud of my heritage than I am when I tell people how to pronounce my last name and that it's Greek. The ivory thread that was used to stitch the Parthenon gives me chills thinking of my very first trip to Greece in 1998. I was a chubby little 4 year old, and don't remember much of that trip except for the 100 degree day in the middle of August that my family and I hiked up to the Acropolis. There was a little old Greek man taking portraits in front of the Parthenon standing in the sun, dancing around behind his camera trying to get a baby to smile. The second my dad saw him, he bolted toward him, with my brother, mom, and I in tow. We were covered in sweat, forcing smiles while the sun was beating down on us. I never understood the reason for the the sporadic family photo until a few months later, when my dad had put 5 different photos in one big frame. The first photo at the top was of my grandfather when he was a child and his family. The second was my grandfather the day he met my grandmother. The third was my grandfather, my grandmother, and my dad and uncle when they were children. The fourth had my grandparents, my own parents before they were married, and my uncle and aunt. All of the photos had the exact same background, and everyone in them was sitting on the same giant chunk of marble, my 4 year old eyes started to notice a pattern. And there, at the bottom, was the new picture of our own family. The same man had been taking pictures in front of the Parthenon for over 60 years!
It is in tiny moments like these, that I realize how important these pillows and designs are to me. They give me joy during some dark times, helping to transport me to some of the corners of the earth I cherish most. There are always more pillows I'd like to add to my collection. These pillows are so much more than just decorative pillows I put on my couch. They are storytellers, they are secret keepers, they are memories stitched carefully and meticulously into my life."
—Elizabeth M.
"I absolutely love the designs y'all have created and I started collecting your dish towels about 4 years ago. The first one that I found was Texas and I knew immediately that I wanted to frame it and put it up in my house someday.
My husband joined the Air Force about three years ago, and when he did, I decided that I would buy a dish towel from your shop for every place that we've lived together to display our Air Force journey in our home throughout his career and throughout our marriage. So far we've lived in College Station, TX (I was so thrilled when y'all came up with the Collegiate Collection); Del Rio, TX; Colorado Springs, CO; and now we're in Klamath Falls, OR. I was also thrilled when y'all came out with the Military Collection! So fun!
I love everything you guys design and I love displaying it in my home. They're such great conversation pieces and people love looking at them and I love talking about them! Thanks for all that you do!"
—Annissa T.
"I wanted to tell you my story about why your pillow is so special to me. I started getting sick at the beginning of high school. I spent 250 days or more in the hospital with symptoms that many specialists did not understand. My mom and I found a specialist in Charleston, South Carolina (I am from Los Angeles, CA) whom we hoped could help to diagnose my condition. During that trip, we did some shopping and purchased your beautiful Charleston pillow. Also, that specialist did very thorough testing and determined that I had a very rare immune system disease. From that point on, I began to get the medical help that I needed. There were more rare conditions to be diagnosed in the future, but that pillow lives on my bed as a reminder of the beginning of my getting well. I have been through a ridiculous number of surgeries since that time (bone death in 7 joints), and always come home from the hospital to my beautiful pillow. It lived on my bed in my dorm room in college and now that I have graduated and had the last two surgeries, it reminds me of never giving up. Thanks so much for your beautiful, happy art."
—Mary M.
I love catstudio! I'm an Iowa girl and received your IOWA towel as a gift. It's too beautiful to use- so I framed it! (Picture attached, in kitchen). I visited your website and found you have a fabulous assortment of wonderful gifts! I sent Pittsburgh to my daughter's friend and new bride! I framed Scotland for my in-laws and I gave Army to my boss (son in Army)! I'm a retired Army Nurse and will keep and frame my Army towel. I bought Germany, Europe, NY and Golden Gate Park- my favorite places! I'm hooked! Thank you for a fun festive product during these unprecedented times! Be safe and take care! A very satisfied customer!!
—Jane R.
We invite you to Tell Your Story: send us an email, a snail mail,
or share your photos on Instagram with #mycatstudiostory.

Here's to new friends, adventures, and most of all... stories!