Try It Tuesday: Chocolate Cutout Sugar Cookies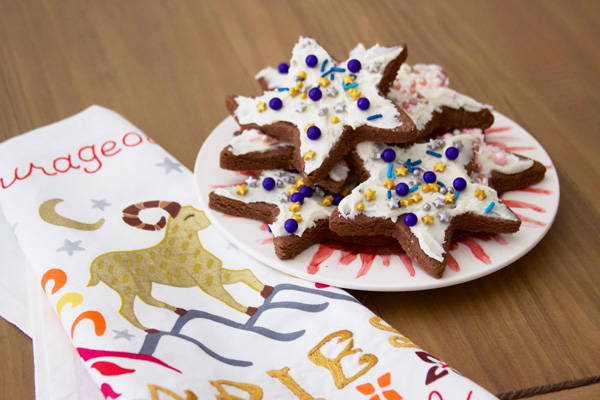 An Enchanting and Sweet Treat
To kick off the release of our new Astrology Dish Towels, we decided to do a little almost holiday season baking with a magical twist!
We love a good sugar cookie, but sometimes you have a chocolate craving you've just got to fix. These chocolate sugar cookies hit the spot! They taste a lot like a soft Oreo cookie, and have the "fun" factor of your getting to roll them out, cut them into fun shapes, and decorate them - a great little afternoon project with kids!. Perfect for the holidays (or any time - we won't judge!).
Get the recipe below. We just know you're going to love them!
Chocolate Cutout Sugar Cookies Recipe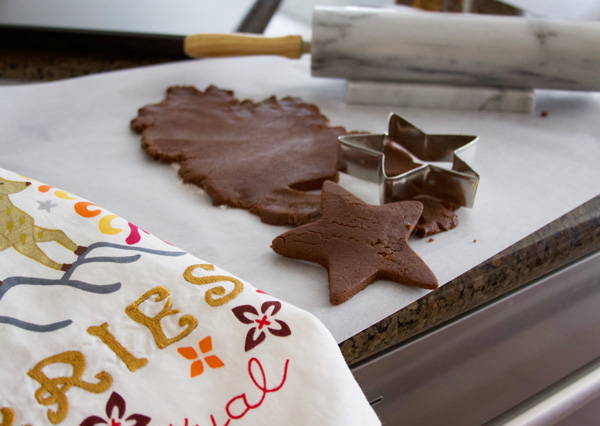 Cookie Ingredients:
1 cup butter, softened
1 1/2 cups sugar
2 large eggs
1 t. vanilla extract
3 cups all-purpose flour
2/3 cup baking cocoa
1/2 t. baking powder
1/4 t. salt
Frosting Ingredients:
2 T butter, room temperature
2 cups powdered sugar
1/2 t. vanilla extract
1 1/2 T milk
Food coloring (if desired)
Decorating toppings such as sprinkles, chocolate chips, writing frosting, etc.
Cookie Directions:
In a large bowl or stand mixer, cream butter and sugar until light and fluffy. Beat in eggs and vanilla. In another bowl whisk flour, cocoa, baking powder, and salt. Gradually beat into creamed mixture.
Divide dough into 2-3 balls and place in the refrigerator for around 30 minutes. This will make rolling out much easier.
Preheat oven to 350*. On a lightly floured surface, roll out dough to about 1/4 inch thickness. Using cookie cutters, cut into shapes and place on a baking sheet 1 inch apart. Bake for 10-12 minutes or until set.
Allow cookies to cool completely before frosting.
Frosting Directions:
Beat butter til fluffy. We recommend using a stand mixer or hand-held mixture if possible. Add vanilla and sugar, and beat until mixture is crumbly. Add the milk, 1/2 T at a time beating for a bit between additions. Continue to beat frosting on high until consistency is thick and fluffy. Add food coloring if desired and mix until just combined.
Spread a healthy layer of frosting on each cookie and decorate!