Try It Tuesday: Easy Crusty Bread Recipe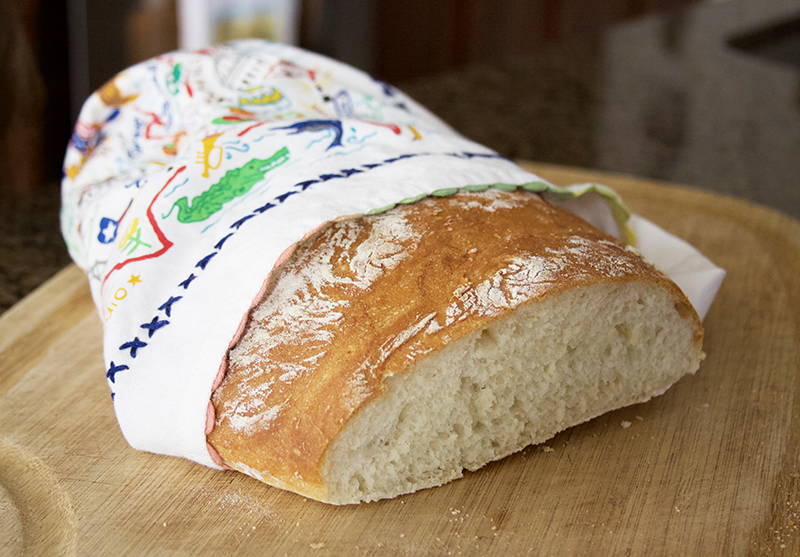 What have you been doing to pass the time during your time at home? Have you been baking up a storm, or finding little projects around the house? If you've been on social media, you've probably noticed everyone and their mom is baking bread right now (that is, if they can find the yeast and flour at the store!), and this weekend we decided it was time to give it a try ourselves.
On Sunday, we had split pea soup simmering on the stove. We knew we just "had" to have some crusty bread to dip in it, but we didn't want to make another trek to the store. Now, we can probably count on one hand the number of times we've made bread before, so we did a little research on good ole' Pinterest, and found some recipes and ideas for novice bakers like us.
We love how this recipe does not require kneading, a bread machine, or any fancy ingredients or equipment for that matter. We also have a particular soft spot for artisanal breads that have that perfect crispy, crunchy crust - and this passed the test for us. We were so pleased with the results, we thought we'd share the recipe with you today. We hope you enjoy!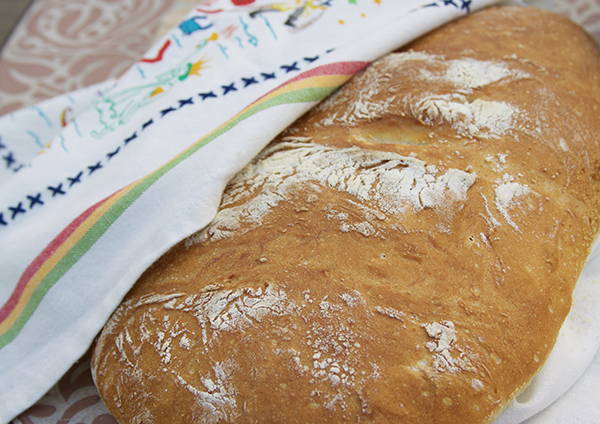 Ingredients:
3 1/4 cups lukewarm water
1 1/2 T dry active yeast
6 1/2 cups flour
1 1/2 T kosher salt
2 sprinkles of corn meal
Other Materials:
Mixing bowl
Whisk
Parchment paper
Baking stone or sheet
Skillet or casserole dish
Tea kettle or saucepan
Serrated knife
Directions:
Combine water and yeast in mixing bowl and stir gently until dissolved. Add flour and salt and mix with a wire whisk until thoroughly combined. Dough will be wet and sticky!
Cover the bowl with a clean kitchen towel, and place in a warm window to rise for 2 hours.
Prepare 2 sheets of parchment paper with a sprinkling of corn meal.
Apply a light dusting of flour over your dough and divide it in half. Shape the dough into 2 rounded loaves and place each loaf on a piece of prepared parchment paper. If the dough seems too wet to work with, you can add another generous handful of flour, but as a reminder, this dough will be somewhat sticky. Sprinkle a light dusting of flour over the loaves and carefully cut 3 horizontal slashes into the top of the dough using a serrated knife. Cover loaves with a kitchen towel and allow to rest for 40 minutes.
Preheat oven to 450* and place your baking stone or baking sheet on the top rack. Place your empty skillet or casserole dish directly below the baking stone.
Meanwhile, bring 1 cup of water to a boil in your tea kettle or saucepan.
Once the oven is preheated, and water is boiling, gently lift one loaf with its parchment paper, and place it on the baking stone. Then carefully pour the boiling water into the skillet below the baking stone, and quickly close the oven door. Do not reopen the oven door. This will create a steam bath inside your oven that will give you that perfectly crispy outer crust!
Bake for 25-30 minutes. Keep an eye on the bread in the last few minutes (don't open the oven door, but take a peek using your oven light), and remove once it is perfectly golden brown.
Repeat steps 6-8 for the 2nd loaf of bread.
Allow your bread to cool slightly before slicing, and enjoy!