Destination: Virginia Beach
Hello, Virginia Beach!
Today we're exploring the beautiful coastal city of Virginia Beach, Virginia—where the Chesapeake Bay and Atlantic Ocean meet. Whether you're traveling with kids or flying solo, there's something for everyone.
Whenever we embark on a new design, it's always a challenge to squeeze everything we want into the 20 square inches of hand-embroidery our pillows allow for. To help with this endeavor, we always work with friends and local stores in the area to gain an insider-feel that both locals and tourists will treasure. The design is HAND-DRAWN, taking even the smallest details to heart.
We hope this design sparks joy and nostalgia for you—whether Virginia Beach is home, your favorite place to visit, or where you dream of traveling. Enjoy the adventure!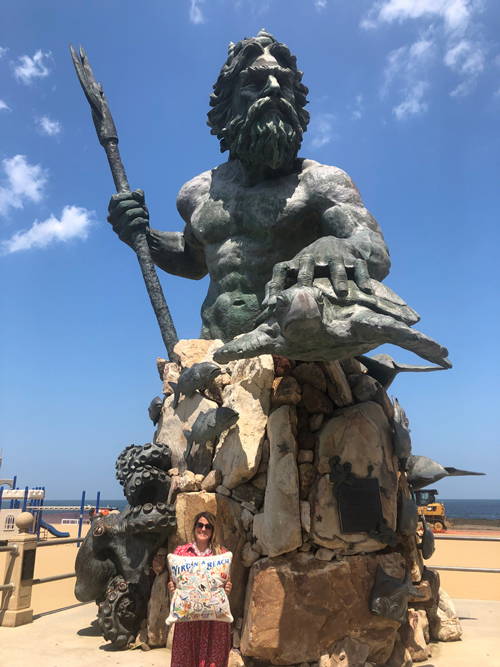 catstudio Sales Manager, Kristina Holt, with King Neptune Statue, Virginia Beach

Here are some highlights from our Virginia Beach artwork to help inspire your next visit!
Stroll along the oceanfront boardwalk.
Take a selfie with the 12-ton King Neptune statue at the entrance of Neptune Park.
Go hiking, fishing, bird watching, or canoeing at Stumpy Lake Natural Area—you can even practice your backswing at the 174-acre golf course.
Planning a Memorial Day Weekend getaway to Virginia Beach? Don't miss the fun-packed, annual Pungo Strawberry Festival!
Check out the amazing ocean life exhibits at the Virginia Aquarium and Marine Science Center.
Have a picnic, bring your kids to play at the Kids' Cove, or visit the skate park at Mt. Trashmore—once a landfill, now a beautiful city park!
Enter to win the "Best Kite Contest," at the Atlantic Coast Kite Festival!
Spend the afternoon or watch the sunset at the secluded Sandbridge Beach.
Visit the Military Aviation Museum to check out their extensive aircraft collection.
Take a load off and enjoy a late lunch, refreshments, a round of cornhole, some great music, and more at The Shack—Virginia Beach's favorite watering hole.
Visit Seaside Amusement Park or Ocean Breeze Waterpark for some family-friendly fun!
And so much more! Is Virginia Beach your home state? Drop us a line and tell us what's missing from this list. We're always up for new adventures. :)